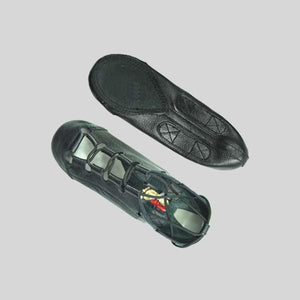 ANTONIO PACELLI
ANTONIO PACELLI HULLACHAN PRO (H1) PUMPS
The original Hullachan design is a great all rounder and offers Irish dancers excellent value for money.
Hullachan 1 offers dancers all the benefits of Hullachan's design expertise at an amazing price.
It was the first Irish dance pump to take foot health seriously and it has been a best seller for over 15 years. Many have attempted to blindly copy the design but all have lacked any true understanding of what a dancer needs to dance successfully and safely.
The Hullachan 1 was the first design to offer dancers a seam free toe and flat seams throughout so you can toe stand in comfort. The thicker leather uppers also act to cushion sensitive toes and support your feet when dancing in this challenging position.
The Hullachan 1 was also the first to use medical grade poron to cushion a dancer's foot. We use the highest grade to protect dancers feet when landing and to give them a natural spring in the step.
Product Features:
Seam free toe area for friction free toe stands
Thicker leather uppers which support you when dancing up on your toes
Flat stitching throughout for a streamlined look and comfortable fit
Arch hugging profile with AP patches which support and showcase your arches
Beautiful refined smooth heel with elasticated side panels for a close secure fit around the heel
Minimal stretch so they last longer than other brands on the market
---
More from this collection